When some people hear of Ashiatsu they think of it as a novelty… "Oh, so you walk on people's backs?" I often have people ask me this, and I have to explain to them that it's much more complex than that. It truly is massaging people with your feet, and it is an incredibly versatile modality. Right off the bat I love to to tell people (men and women alike) that there is incredible work that feet can do that hands simply cannot. Perhaps that is surprising, but hands do not have the breadth and evenness of strength that feet have. This makes feet uniquely able to offer deep pressure over a wide area and deliver long stretches that improve posture and reduce pain.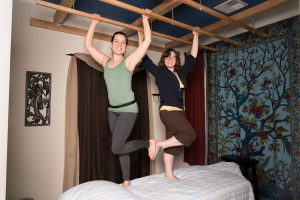 I had one student say, "It's like Structural Integration!" and really it is. Or, as I often explain to clients and students, it's the best of deep tissue and myofascial release techniques. Imagine stretching and broad deep tissue at the same time. It's powerful work!
As therapists, hours of massage therapy every work day can take a toll. But if you're a massage therapist that is worth their salt, then you love what you do and you want to keep doing it. If this sounds like you, then I'm sure you're trying to find ways to ensure the quality of the massage that you're offering to your clients without wearing down your hands. Ashiatsu can be a valuable asset. The pressure can be modified to suit clients who like medium, deep, to very deep pressure. It's perfect for those clients that you can never seem to work deep enough on! (And these clients exist for every therapist no matter how strong he or she is!!) Wow your clients by getting to areas of pain that they thought no one would ever reach.
Here are just a few more of the benefits of learning the modality:
Ashiatsu…
Gives your hands, knuckles, forearms a break!
Allows you to use the strength of your legs and your body weight to maximize results for your client.
Helps to tone and strengthen your body overall, including your core.
Helps to spread workload and prevent overuse injuries.
Delivers a smooth, even, consistent pressure that you simply cannot achieve with your hands.
Lengthens your career.
Enhances your skill set.
Opens up your understanding of the human body and therapeutic bodywork.
It's FUN.
Is a modality that is growing in popularity worldwide!
Group classes, private lessons, and tutoring are all available on an ongoing basis. Check for group class dates by visiting our Ashiatsu Courses tab or call to inquire about setting up private lessons.
Level 1 Ashiatsu group classes are $550 in tuition.
Private Instruction is available for $750+ depending on the number of hours.
All instruction hours are NCBTMB accredited through the Barefoot Masters® program. All instructors are fully licensed and ready to help you expand your skill set and enhance your career!